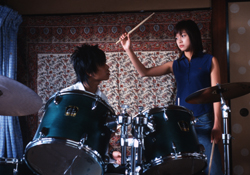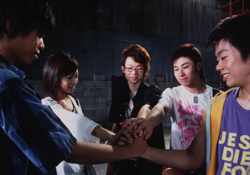 BEAT KIDS
原題

ビートキッズ

Original Title

BEAT KIDS

Production Year

2005

Running Time

115min

Genre

Color

Color

Director

Cast

Takahiro MORIGUCHI
Saki AIBU
Ikkei WATANABE
Kimiko YO
Etushi TOYOKAWA
Introduction

A passionate rock'n'roll coming of age film of a high school kid who takes growing pains and turns them into positive energy tharough music.
A coming of age film filled with beat and emotions waiting to blast out.

Synopsis

Transfer student Eiji, is forced into playing the large drum in the school's brass band by Nanao, an outstanding musician, but obsessed with creating perfect sound. However, from the moment he picks up the drumsticks, the "beat" inside Eiji is awakened, and he soon becomes a captive of its sonic boom. Nanao too, is influenced by Eiji, particularly by his bright character and his natural kindness. Under Nanao's guidance, the brass band plays well in the local competition, but soon dissolves after Nanao comes into conflict with the band's teacher. Nanao, who had long been thinking about going to New York, pursues her dream and decides to go. Inspired by Nanao, Eiji forms his own band, as he keeps drumming and ride the music to live a life full of cheer.