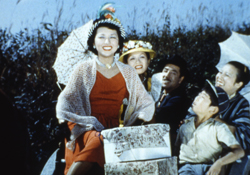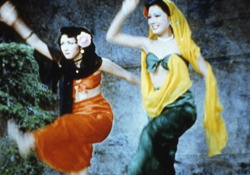 CARMEN COMES HOME
原題

カルメン故郷に帰る

Original Title

Carmen Kokyo ni Kaeru

Production Year

1951

Running Time

86min

Genre

Color

Color

Director

Cast

Hideko TAKAMINE
Shuji SANO
Chishu RYU
Kuniko IGAWA
Toshiko KOBAYASHI
Introduction

Japan's first color film is a fun, bubbly comedy about the commotion caused by a stripper who returns from
Tokyo to her hometown in Shinshu.

Synopsis

Tokyo stripper Lily Carmen returns to her Shinshu hometown with her wannabe artist friend Akemi. The local men are whipped into a frenzy while the women are up in arms, and her father despairs. The village sways from side to side at the whims of Lily...