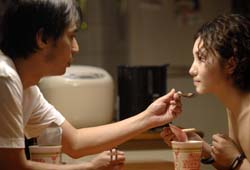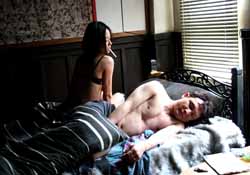 DIARY OF A BELOVED WIFE
原題

愛妻日記

Original Title

Aisai Nikki

Production Year

2006

Running Time

68min

Genre

Color

Color

Director
Introduction

Six sensual and luscious episodes that will take you to the sexual desire of ordinary people's un-eventful everyday life.

Synopsis

Diary of a Beloved Wife (SATO Toshiki / 68min)
Oda is a cowardly and boring man, his only redeeming feature being his diligence. He continues to live with his wife, Ayane, but they can't seem to produce children and are troubled as to whether their relationship will survive. One evening Oda returns home to find a pair of blue toy handcuffs hanging on the doorknocker. Using them, Oda humiliates Ayane. Although bewildered at first, Ayane begins to respond, and Oda becomes increasing excited as he sexually assaults her. In truth, the blue handcuffs were Ayane's contrivance. There was a time in the past when she used to reach climax...

White Room (SAITO Hisashi / 72min)
Sachiko and Yoshida are newlyweds, and have just moved into a newly-constructed apartment with completely white rooms. It's reasonable to expect that they would be enjoying their newlywed life, but Sachiko is refusing to go along with Yoshida's sexual demands. One day, Yoshida's junior colleague, Kato, shows him a video. Its title is "White Room: Evening Classroom Inspection," and in it a girl is shown holding a photograph of her mother against her thigh while engaged in fondling. But the astounding thing is that it is a room in their newly-constructed apartment! Yoshida stealthily takes the video home, but Sachiko sees what it contains...

Naive (TOMIOKA Tadafumi / 72min)
Yoko is an ordinary housewife living in an ordinary apartment block. She has no real complaints as she goes about her tedious days, although her husband, Shinichi, is rather predictable in bed. They have one son, Junichi, and Yoko feels at a loss regarding his recently-acquired adolescent interest in sex and his secret stash of erotic magazines. Junichi is about to write his junior high school entrance exams, so he's heading off to cram school camp for New Year's. Before going, he makes a surprising suggestion, "Why don't you guys go somewhere for New Year's?" Yoko and Shinichi are suddenly faced with the prospect of New Year's apart from their son. How will this couple, who've already lived half of their lives, change their behavior when it's just the two of them...?

Smokes Gets in Your Eyes (KAMEI Toru / 74min)
"They taste great, because they taste like you do down there! No other cigarette tastes that great!" Chiho has prohibited her husband, Takahashi, from smoking while she's trying to become pregnant. Takahashi hasn't told his wife he was laid off, and has a paid sexual encounter with a high-school student, attracted by the pungent odor of her cigarettes, `Peace Regulars.' That evening, Chiho became outraged by the foul odor of the `Peace Regulars,' saying it reminded her of an elderly relative having shoved the same brand of cigarettes into her genitals in the distant past. In fact that memory was not Chiho's, but that of her twin sister, Kaho...

Feast (OGATA Akira / 63min)
"Only a fool loves their body more than their soul." Masayuki and Kyoko's bodies had both started to age to the point where they no longer experienced sexual passion. They are a couple that shares the same bed while finding separate pleasures with their own sex toys. Masayuki was always reminded that his true understanding of love came from his high school ethics teacher and that teacher's wife. The incident occurred when Masayuki was only 17. When he became alone with her he impulsively craved her body, only to notice that on the other side of the sliding paper screen...

Saucepot (WATANABE Kensaku / 68min)
Junko and Kohei were each other's first relationship, and got married. A white apartment, a white blouse, and white underwear; their relationship was pure. But then Junko put on conspicuous lingerie and a black dress, and went to attend a class reunion. Suspicious, Kohei followed behind her until she disappeared into a hotel with Okada, a former junior high school classmate. Kohei had learned from his mother to obsessively despise `filth,' and vowed to make Junko utterly filthy. So, he presented his own wife to a gang rape club...