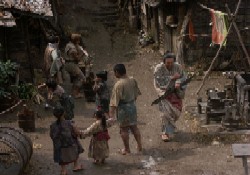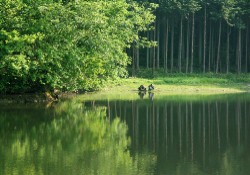 ©2005 HANA FILM PARTNER
HANA
原題

花よりもなほ

Original Title

Hana Yori mo Naho

Production Year

2006

Running Time

127min

Genre

Color

Color

Director

Cast

OKADA Junichi, MIYAZAWA Rie, ASANO Tadanobu
Introduction

Director Kore-eda Hirokazu, brings out his first samurai film, after his internationally
praised "Nobody Knows".
The story follows a young samurai, fated to avenge his father's death.
Will he choose vengeance and honor, or will he choose life?

Synopsis

The time is 1702.
A young samurai, Aoki Sozaemon (Okada Junichi) has left his countryside hometown, and is now living in Edo (now Tokyo), in search of Kanazawa Jubei (Asano Tadanobu), the man who killed his father.

He is living in a dilapidated tenement house, in the poor quarters of the city of Edo. His neighbors in the so-called "row houses" are all good, solid folk who can never even hope to rise out of the squalor of their surroundings. Sozaemon, the provincial samurai, becomes friends with a variety of characters including a habitual drunk, an unsuccessful would-be petty official, a ragman, a perky girl, a doctor, and a scrivener. As the relationships between the characters unfold we are led deeper in the blossoming love story of Sozaemon and the beautiful widow, Osae (Miyazawa Rie).

Although he has never forgot his task to find his father's enemy and to succeed in his vengeance, being around Osae and her son, Sozaemon feels a warm feeling inside, which leads to doubts about the entire act of revenge. However, to walk away from the "revenge-act (ADAUCHI)", could actually bring his entire family down, not only without the reward from the Shogun, but also, as a samurai, to be unsuccessful on revenge would be an act of cowardice, and a disgrace to the entire family name.

Sozaemon, still not being able to decide on if he should take the act of revenge, goes on with his everyday life, teaching the neighborhood children mathematics, reading and writing. He wonders whether he can ever enjoy life without the specter of revenge and swordplay.

With the discovery of the rich meaningful life rather than the meaningless death of a warrior, Sozaemon, together with his strange friends at the tenement row house, decides to plot an act of the lifetime...