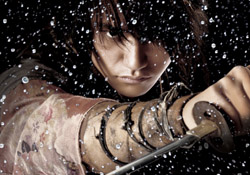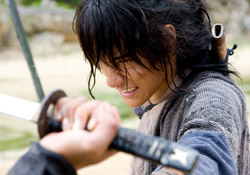 KAMUI
原題

カムイ外伝

Original Title

Kamui Gaiden

Production Year

2009

Running Time

120min

Genre

Color

Color

Director

Cast

Kenichi MATSUYAMA,
KOYUKI,
Suzuka OHGO,
Hideaki ITO,
Anna TSUCHIYA
Introduction

A high concept Ninja Action film (budget US$18M) as you have never experienced!!!

Synopsis

Kamui is a Fugitive Ninja on the run from the world of Ninja. He despises the lethal laws of
the Ninja where he must use his skills to kill others, and is in search for true freedom.
However, he burdens the fate to fight the Hunter Ninjas who tries to eliminate him for his betrayal.
In order to live, he must constantly fight for his life. He does not trust, and he does not live.
Showing weakness leads to immediate death.
An incident brings him to a fisherman's family, where he finally starts to open up to other people.
However, the Hunters were just minutes away from setting up a huge trap on Kamui...