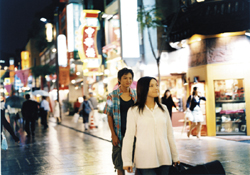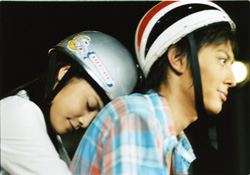 MIDNIGHT SUN
原題

タイヨウのうた

Original Title

Taiyo no Uta

Production Year

2006

Running Time

119min

Genre

Color

Color

Director

Cast

YUI
Takashi Tsukamoto
Introduction

A heartrending, yet beautiful love story

The production team has cast YUI, an up and coming musician, as the heroine of the film, which will be her first ever appearance on film. YUI made an extraordinarily stunning debut into the music scene with her debut single selected as the theme song for an extremely popular TV drama series.
In the film, the real life image of YUI overlaps with the main character, Kaoru, with YUI holding her guitar in hands singing a prelude to this emotionally moving story. She seems as if she was brought into this world for this film.

The film is directed by Norihiro Koizumi, a very promising 25-year old director, making his feature film debut. He has become famous for his short films, but proves that he is capable to capture the lively passion that the cast brings out, and the beautiful cinematic moments in the neon lights and in the sun.
The fresh new collaboration between this 25-year old young Koizumi and an 18-year old brilliant musician YUI will bring a new breeze into the film industry.

Selected to play the main actor is Takashi Tsukamoto, one of the most noticed among the actors of his age, both in popularity and talent, who has made appearances in a number of films including About Love and Battle Royal.
Playing the role of Kaoru's father is Goro Kishitani, a veteran actor, and playing her mother is Kuniko Asagi. The film with the gorgeous cast lineup will bring to you a deeply heart-touching, unforgettable story.

Synopsis

A girl who can only live at night and a high school student who loves to surf as the sun rises...
The two had nothing in common...

Kaoru Amane, 16 years old, did not attend school but instead sang herself away every night after dark at a square in front of a train station with a guitar in her hands. She led a lifestyle opposite the norm, sleeping during the day and active at night. Kaoru was suffering from xeroderma pigmentosum (XP), an illness, which also might be described as the allergy to the sun, and was not allowed to be exposed to sunlight. The only motivation in her life was singing, which also was the only connection to the outside world.
One day, an incident drastically changes her life...

Kaoru returns home at 4:00 am, before sunrise. Outside her room window, she spots a high school student standing with a surf board in his hands.
It becomes her routine to watch him and his friends come and go to the ocean every morning, before going to sleep.

Their destined encounter takes place during the few hours before the break of day, drawing together two individuals that would have never met in daylight. However, Koji does not know about her illness. The two rapidly fall for one another and continues to meet in the city at night. Then one day, an incident leads Koji to learn of Kaoru's illness. Kaoru gives up her first love telling herself that, "I shouldn't have allowed myself to dream of a happy life. I am not normal after all." She even gives up singing. Koji seeing Kaoru at such a state encourages her by suggesting, "Let's meet only at night," and comes up with a brilliant present for her.

She had been leading a life carefully placing herself beyond the reach of harm, with no intent to pursue a dream. However, Koji had shone a light on her heart making her want to sing once again.
However, her illness which has quietly progressed, has started to pressure her nerve system, keeping her from playing the guitar at her will...