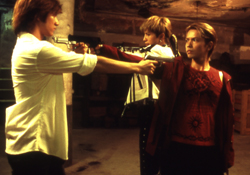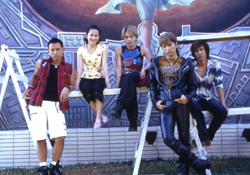 MOON CHILD
原題

ムーンチャイルド

Original Title

Moon Child

Production Year

2003

Running Time

119min

Genre

Color

Color

Director

Cast

GACKT
HYDE
Taro YAMAMOTO
Susumu TERAJIMA
Lee Hom WANG
Introduction

"Moon Child" is a sci-fi action drama starring HYDE (of the band L'Arc en Ciel) and Gackt, two of Japan's top rock musicians with a strong fan base throughout Asia. Filmed on location in Taiwan, it features an up and coming cast in a truly unique, pan-Asian glimpse of the future.
In a chaotic, strife-filled city where everything is up for grabs, fate brings four orphans into the life of KEI, a man with eternal life ? a vampire.
The story follows the five tough yet vulnerable characters as they struggle to find love and friendship in a world of conflict and horror. Caught in the web of violent times, they end up at war with one another in a bitter sweet mix of love hate and gunfire.

Synopsis

It is the year 2014. The Asian Special Economic Zone, "Mallepa" is bustling with people of different races and nationalities. It's a boomtown at the frontier of the modern economic system where dreams can come true overnight...for some.
SHO, who has just turned eight, is one of a gang of kids known as the "Mallepa Orphans" who eke out their lives on the streets. Together with his brother SHINJI and their buddy TOSHI, they survive by petty thieving and picking pockets. One day Sho gets acquainted with KEI, a young man with the cursed fate of a vampire. Trying to help the wounded Kei, Sho takes him to their hideout.
A vicious thug storms the hideout to retrieve his briefcase which the gang had stolen earlier. They try to flee, but Sho and Shinji are cornered. Sho sees his brother gunned down. But nothing matches the horror of watching Kei arise and tear the thug to pieces then drink his blood. From that moment on, this terrible secret is a bond between them.
...Ten years later, Sho and Toshi have matured into hoodlums who plan to hit the local Taiwanese mafia and make their fortunes. Kei, not having aged a day, tags along with this group of friends.
As they launch their attack on the mafia HQ, they encounter SON, a local guy there with exactly the same plan in mind. They team up and become stronger than ever.
Later, at Son's house, they meet his sister YI-CHE who was once raped by the mafia thugs and left for dead. Struck dumb by the trauma, her only mode of expression is in the painting of a giant mural in the park where the gang hang out. Sho falls for her silent beauty, but it seems she is smitten by the mysterious presence of Kei.
Against the hidden longings of this latent love triangle, the following period is one of true happiness for the gang. For the first time in their bleak, young lives they know what it is to cherish each day. However the peace is fated to be short-lived. At the opening exhibition for Yi-Che's mural, hit men from the top-level of the mafia gang barge in, guns blazing.
Toshi is brutally slain. As Sho, Son and Yi-Che try to flee, Kei cruelly wrings the life out of the assassins. Son and Yi-Che are appalled to witness his true nature. Kei feels he has no choice but to leave them and disappears from their lives.
Years pass. Sho is now married to Yi Che and they have a family together. Under the guise of running a restaurant with his crippled brother, Shinji, he also tries to organize down-trodden immigrants in Mallepa against the mafia as vengeance for Toshi's murder. The saddest part is that Son, a native of Mallepa, has had to choose sides and is now with the mafia and thus their sworn enemy.
Kei meanwhile is facing execution as a vampire in a distant land. Sho learns of this and makes the long journey to let him know of the gang's dilemma. The vicious struggle with the mafia is not going well and they need his help. Shinji is then killed and Yi-Che, suffering in the bitter conflict between her brother and husband, is struck with a degenerative disease that tips her mind into madness.
The spiral of tragedy and violence accelerates towards a bloody showdown between the surviving members. Can there be any winners when friendship duels with hatred? Meanwhile, having sprung himself from prison, what role will the immortal Kei play upon his return to this human drama? Can his supernatural powers provide any relief from the inevitable?
He returns to Mallepa to join Sho for the final standoff...