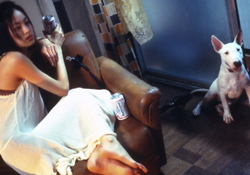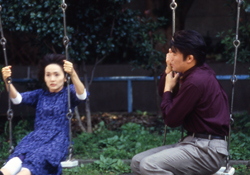 OPEN HOUSE
原題

OPEN HOUSE

Original Title

Open House

Production Year

1997

Running Time

114min

Genre

Color

Color

Director

Cast

Eihi SHIINA
Daijiro KAWAOKA
Minami KAHO
Sansei SHIOMI
Shigemitsu OGI
Introduction

Isao Yukisada's long awaited debut film finally unveils...
The featured film "A Day on the Planet" (2004) and "GO" (2001) directed by Isao Yukisada, had sensational openings and was acclaimed both domestically and internationally. Now, his debut film finally unveils. The story is filled with lyrical description underpinned by subtle emotional expression. The use of soft lighting does much to give the film its excellent and well-earned production values. Viewers familiar with "OPEN HOUSE" will recognize Yukisada's unique talent and have a visual and story-fed link to the origin of "GO" and "A Day on the Planet".

The original story "OPEN HOUSE" written by Akutagawa Award winning writer, Hitonari Tsuji, is composed of two stories - one about Tomonori and Mitsuwa, and the other about Yuiko. Yukisada succeeds in bringing to life three different characters that live in the city, alongside their sense of loneliness and a pursuit for happiness.

Eihi Shiina, who has received wide acclaim for her role in "AUDITION" (2000) by Takashi Miike, stars as Mitsuwa, a third grade model in the film. Her edgy portrayal of the unbalanced Mitsuwa and her charming looks bring the character to life.
Tomonori, who moves into Mitsuwa's apartment, is played by Daijiro Kawaoka.
Kaho Minami plays the eccentric but humorous Yuiko who is still suffering from the pains of prolonged divorce proceedings. All three characters, haunted by their loneliness and anxieties, still try hard to release themselves in the little joys of life.

The staff is headed by director of photography, Noboru Shinoda whose major works include "Swallowtail and Butterfly" (1996) and "All about Lily Chou Chou" (2001).
Yuji Tsuzuki, the production designer and his major works include "One More Time, One More Chance" (1996 Tetsuo Shinohara) and "PARTY 7" (2000 Katsuhito Ishii).
Lighting, a very important element in this film was carried out by Hiroki Nakamura, well-known for his distinctive award winning work on "Love Letter" (1995) and "Swallowtail & Butterfly" (1996) among his works with Shunji Iwai.
Editor, Shuichi Kakesu, is also well-known as a producer. His other major editing accomplishments include: "Love Letter" (1995) and "Aragami" (2003 Ryuhei Kitamura).
Truly we can say that this film was put together by the most competent talent in the current world of Japanese film.

Synopsis

The cacophony played by lonely hearts in a corner of the city

...Mitsuwa and Tomonori
Mitsuwa (Eihi Shiina) is a third rate model and she is very unhappy with her demeaning job of handing out leaflets. Unfortunately she doesn't have too many options so she gets by as best she can. One day she gets drunk and starts a fight at a party where she is working. She ends up getting kicked out of the bar and running into Tomonori (Dijiro Kawaoka) who has no place to go. Tomonori finds Mitsuwa lying on the street while he was calling a friend to bum a bed for the night from a public telephone booth. Tomonori takes care of Mitsuwa and takes her home. Next morning, Mitsuwa is surprised to find Tomonori in her room.
Tomonori is at first embarrassed but once he explains what happened, Mitsuwa is quite pleased to have him move in with her. A few days later, a dog named Enrique joins them. Poor Enrique has been trained with an electric shock collar and now is not sure how to bark.
...Yuiko
Yuiko (Kaho Minami) has just been divorced. She is very confused and almost desperate, which causes her stress-related itchiness that prevents her from a good night's rest and leaves her to scratch all night.
Miyake (Takehiro Murata), her ex-husband's best pal, is passionately in love with Yuiko and asks her to marry him. Disgusted and scared of Miyake, Yuiko again is stressed.
One day, her ex-husband's lover turns up at Yuiko's apartment to inform her that they are breaking up because the man cannot part with the memories with Yuiko, which appear to be more important than a future with her. Still confused, Yuiko cannot open her mind to anybody. It seems as those who love are never destined to be loved by those they lavish their affection upon. However, their pursuit of happiness will find a place to settle, just like the dog, which is the symbol of happiness, coming into their life by chance.