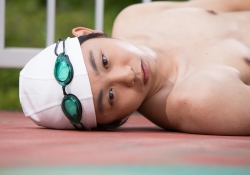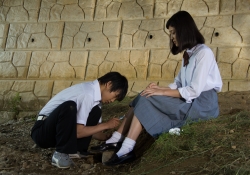 SWEET POOLSIDE
原題

スイートプールサイド

Original Title

SWEET POOL SIDE

Production Year

2014

Running Time

103min

Genre

Color

Color

Director

Cast

Kenta SUGA 須賀健太
Yuriko KARIYA 刈谷友衣子
Introduction

A hairless teenage boy meets a hairy teenage girl.

Synopsis

Toshihiko is a 16 year old student who belongs to the school swimming club. Toshihiko has been seriously ashamed that he hasn't yet developed pubic hair. Another member of the club, Ayako, has the opposite problem and she is very concerned about her overall hairiness.
One day, Toshihiko happens to see Ayako trying to shave the very visible dark hair on her arms. Ayako suddenly asks Toshihiko to shave her body. Since then, Toshihiko and Ayako meet every Monday under a local bridge for a secret shaving session. However, Ayako suddenly decides to end their secret meetings and tries shaving herself, but she ends up badly cutting her arms. Ayako's father mistakenly thinks she is trying to kill herself.
An unusually intimate film about teenagers and the hang-ups of puberty which can often lead to outrageous, impulsive actions.