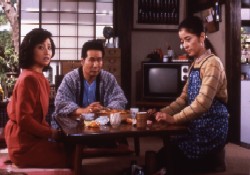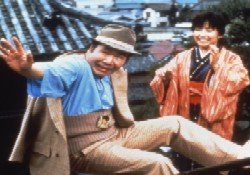 TORA-SAN GOES RELIGIOUS?
原題

男はつらいよ 口笛を吹く寅次郎

Original Title

OTOKO WA TSURAIYO KUCHIBUE WO FUKU TORAJIRO

Production Year

1983

Running Time

104min

Genre

Color

Color

Director

Cast

Kiyoshi ATSUMI
Keiko TAKESHITA
Synopsis

Tora-san visits brother-in-law Hiroshi's hometown to attend a memorial service for his late father. When the local temple priest becomes intoxicated, Tora-san wearing the priest's robe delivers the memorial speech, much to his family's surprise. Thinking he's found his true calling, Tora-san decides to join the order, and falls for the priest's divorced daughter, in this, the series' 32nd entry.